[C9] Notice - Vote for C9 and get special gifts & events!

Greetings C9 Actionists,
We are pleased to inform that C9 has been nominated for 2 Awards on "2017 MMOsite Reader's Choice!"
It's your time to cast your vote for C9!
Many drops make a shower, and your precious vote can make C9 win the 1st place. You can make it happen!
Favorite Action MMO: Click!
Best PVP: Click once more!
How to vote: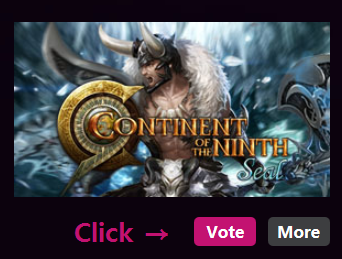 Click the link above.
Find "C9" and click [Vote] button!


To thank our previous voters, we are giving out promotion codes. Get Free Item Redeem Codes!


Get the code here: Link


Promotion Code Contents:
PC Cafe Premium Service [7 days]
Extreme Training (100%) [x5][1 hr]
Skill Reset Scroll [14 days]
Town Travel Lv.1 [7 days]
School Look Gear Set [7 days]
Resurrection Scroll [x15]
Soul: Prelude to the Storm Set [7 days]
** All items are bound to the character.


How to redeem the code?
Enter the Redeem Code here: Go to the Redeem Code page.
Log in with your account.
Select the game, server, and character you want to receive the items.
Enter the code (without hyphens).
Click "Redeem Code."
The items will be delivered to the storage of the character you selected.
The 1st round will only be open until December 20th, 2017, and you can vote once everyday REPEATEDLY!
So hurry up to cast your vote today, and don't forget to vote again tomorrow!

Of course, our developers are preparing the best event for all voters to make the game more enjoyable :)
We are looking forward to seeing the best selection of actionists!
C9 Support Team